Propaganda against Iran - for 33 years they have been telling us that Iran almost has a Nuke
http://www.hangthebankers.com/propaganda-against-iran-for-33-years-they-have-been-telling-us-that-iran-almost-has-a-nuke/
Breathless predictions that the Islamic Republic will soon be at the brink of nuclear capability, or – worse – acquire an actual nuclear bomb, are not new.
For more than quarter of a century Western officials have claimed repeatedly that Iran is close to joining the nuclear club. Such a result is always declared "unacceptable" and a possible reason for military action, with "all options on the table" to prevent upsetting the Mideast strategic balance dominated by the US and Israel.
And yet, those predictions have time and again come and gone. This chronicle of past predictions lends historical perspective to today's rhetoric about Iran.
1. Earliest warnings: 1979-84
Fear of an Iranian nuclear weapon predates Iran's 1979 Islamic revolution, when the pro-West Shah Mohammad Reza Pahlavi was deep in negotiations with the US, France and West Germany, on a nuclear-energy spending spree that was to yield 20 reactors.
Late 1970s: US receives intelligence that the Shah had "set up a clandestine nuclear weapons development program."
1979: Shah ousted in the Iranian revolution, ushering in the Islamic Republic. After the overthrow of the Shah, the US stopped supplying highly enriched uranium (HEU) to Iran. The revolutionary government guided by Ayatollah Ruhollah Khomeini condemned nuclear weapons and energy, and for a time stopped all projects.
1984: Soon after West German engineers visit the unfinished Bushehr nuclear reactor, Jane's Defence Weekly quotes West German intelligence sources saying that Iran's production of a bomb "is entering its final stages." US Senator Alan Cranston claims Iran is seven years away from making a weapon.
2. Israel paints Iran as Enemy No. 1: 1992
Though Israel had secretly done business with the Islamic Republic after the 1979 revolution, seeking to cultivate a Persian wedge against its local Arab enemies, the early 1990s saw a concerted effort by Tel Aviv to portray Iran as a new and existential threat.
1992: Israeli parliamentarian Benjamin Netanyahu tells his colleagues that Iran is 3 to 5 years from being able to produce a nuclear weapon – and that the threat had to be "uprooted by an international front headed by the US."
1992: Israeli Foreign Minister Shimon Peres tells French TV that Iran was set to have nuclear warheads by
1992: Joseph Alpher, a former official of Israel's Mossad spy agency, says "Iran has to be identified as Enemy No. 1." Iran's nascent nuclear program, he told The New York Times, "really gives Israel the jitters."
3. US joins the warnings: 1992-97
The same alarm bells were already ringing in Washington, where in early 1992 a task force of the House Republican Research Committee claimed that there was a "98 percent certainty that Iran already had all (or virtually all) of the components required for two or three operational nuclear weapons."
Similar predictions received airtime, including one from then-CIA chief Robert Gates that Iran's nuclear program could be a "serious problem" in five years or less. Still, the bureaucracy took some time to catch up with the Iran threat rhetoric.
1992: Leaked copy of the Pentagon's "Defense Strategy for the 1990s" makes little reference to Iran, despite laying out seven scenarios for potential future conflict that stretch from Iraq to North Korea.
1995: The New York Times conveys the fears of senior US and Israeli officials that "Iran is much closer to producing nuclear weapons than previously thought" – about five years away – and that Iran's nuclear bomb is "at the top of the list" of dangers in the coming decade. The report speaks of an "acceleration of the Iranian nuclear program," claims that Iran "began an intensive campaign to develop and acquire nuclear weapons" in 1987, and says Iran was "believed" to have recruited scientists from the former Soviet Union and Pakistan to advise them.
1997: The Christian Science Monitor reports that US pressure on Iran's nuclear suppliers had "forced Iran to adjust its suspected timetable for a bomb. Experts now say Iran is unlikely to acquire nuclear weapons for eight or 10 years."
4. Rhetoric escalates against 'axis of evil': 1998-2002
But Iran was putting the pieces of its strategic puzzle together. A US spy satellite detected the launch of an Iranian medium-range missile, sparking speculation about the danger posed to Israel.
1999. "Iran is the greatest threat and greatest problem in the Middle East," Peres warned, "because it seeks the nuclear option while holding a highly dangerous stance of extreme religious militanCY."
1998: The New York Times said that Israel was less safe as a result of the launch even though Israel alone in the Middle East possessed both nuclear weapons and the long-range missiles to drop them anywhere. "The major reaction to this is going to be from Israel, and we have to worry what action the Israelis will take," the Times quoted a former intelligence official as saying. An unidentified expert said: "This test shows Iran is bent on acquiring nuclear weapons, because no one builds an 800-mile missile to deliver conventional warheads."
1998: The same week, former Defense Secretary Donald Rumsfeld reports to Congress that Iran could build an intercontinental ballistic missile – one that could hit the US – within five years. The CIA gave a timeframe of 12 years.
2002: CIA warns that the danger from nuclear-tipped missiles, especially from Iran and North Korea, is higher than during the cold war. Robert Walpole, then a top CIA officer for strategic and nuclear programs, tells a Senate panel that Iran's missile capability had grown more quickly than expected in the previous two years – putting it on par with North Korea. The threat "will continue to grow as the capabilities of potential adversaries mature," he says.
2002: President George W. Bush labels Iran as part of the "axis of evil," along with Iraq and North Korea.
5. Revelations from inside Iran: 2002-05
In August 2002, the Iranian opposition group Mojahedin-e Khalq (MEK, a.k.a. MKO) announces that Iran is building an underground uranium enrichment facility at Natanz, and a heavy water reactor at Arak. It is widely believed that the evidence had been passed to the MEK by Israeli intelligence.
Enrichment and reactors are not forbidden to Iran as a signatory of the Nuclear Non-Proliferation Treaty (NPT), but the failure to disclose the work prompts an IAEA investigation and much closer scrutiny. Iran insists its efforts are peaceful, but is found in breach of its IAEA safeguards agreement, and accused by the IAEA of a "pattern of concealment."
2004: Then-Secretary of State Colin Powell tells reporters that Iran had been working on technology to fit a nuclear warhead onto a missile. "We are talking about information that says they not only have [the] missiles but information that suggests they are working hard about how to put the two together," he said.
2005: US presents 1,000 pages of designs and other documentation allegedly retrieved from a computer laptop in Iran the previous year, which are said to detail high-explosives testing and a nuclear-capable missile warhead. The "alleged studies," as they have since been called, are dismissed by Iran as forgeries by hostile intelligence services.
6. Dialing back the estimate: 2006-09
2006: The drums of war beat faster after the New Yorker's Seymour Hersh quotes US sources saying that a strike on Iran is all but inevitable, and that there are plans to use tactical nuclear weapons against buried Iranian facilities.
2007: President Bush warns that a nuclear-armed Iran could lead to "World War III." Vice President Dick Cheney had previously warned of "serious consequences" if Iran did not give up its nuclear program.
2007: A month later, an unclassified National Intelligence Estimate (NIE) on Iran is released, which controversially judges with "high confidence" that Iran had given up its nuclear weapons effort in fall 2003.
The report, meant to codify the received wisdom of America's 16 spy agencies, turns decades of Washington assumptions upside down. Iranian President Mahmoud Ahmadinejad calls the report a "victory for the Iranian nation." An Iranian newspaper editor in Tehran tells the Monitor, "The conservatives … feel the chance of war against them is gone."
June 2008: Then-US Ambassador to the United Nations John Bolton predicts that Israel will attack Iran before January 2009, taking advantage of a window before the next US president came to office.
May 2009: US Senate Foreign Relations Committee reports states: "There is no sign that Iran's leaders have ordered up a bomb."
7. Israel's one-year timeframe disproved: 2010-11
Despite reports and intelligence assessments to the contrary, Israeli and many US officials continue to assume that Iran is determined to have nuclear weapons as soon as possible.
August 2010: An article by Jeffrey Goldberg in The Atlantic's September issue is published online, outlining a scenario in which Israel would chose to launch a unilateral strike against Iran with 100 aircraft, "because a nuclear Iran poses the gravest threat since Hitler to the physical survival of the Jewish people."
Drawing on interviews with "roughly 40 current and past Israeli decision makers about a military strike" and American and Arab officials, Mr. Goldberg predicts that Israel will launch a strike by July 2011. The story notes previous Israeli strikes on nuclear facilities in Iraq and Syria, and quotes Israeli Prime Minister Benjamin Netanyahu saying, "You don't want a messianic apocalyptic cult controlling atomic bombs. When the wide-eyed believer gets hold of the reins of power and the weapons of mass death, then the world should start worrying, and that's what is happening in Iran."
2010: US officials note that Iran's nuclear program has been slowed by four sets of UN Security Council sanctions and a host of US and EU measures. The Stuxnet computer virus also played havoc through 2011 with Iran's thousands of spinning centrifuges that enrich uranium.
January 2011: When Meir Dagan steps down as director of Israel's Mossad spy agency, he says that Iran would not be able to produce a nuclear weapon until 2015. "Israel should not hasten to attack Iran, doing so only when the sword is upon its neck," Mr. Dagan warned. Later he said that attacking Iran would be "a stupid idea…. The regional challenge that Israel would face would be impossible."
January 2011: A report by the Federation of American Scientists on Iran's uranium enrichment says there is "no question" that Tehran already has the technical capability to produce a "crude" nuclear device.
February 2011: National intelligence director James Clapper affirms in testimony before Congress that "Iran is keeping the option open to develop nuclear weapons in part by developing various nuclear capabilities and better position it to produce such weapons, should it choose to do so," Mr. Clapper said. "We do not know, however, if Iran will eventually decide to build nuclear weapons."
November 2011: The IAEA claims for the first time that Iran is has worked on weapons-related activities for years, publishing detailed information based on more than 1,000 pages of design information that is corroborated, it says, by data from 10 member states and its own investigation and interviews.
Israel's Prime Minister Benjamin Netanyahu repeating the lie to the United Nations last week about how close Iran is to building a nuke.
Source:
http://www.csmonitor.com/World/Middle-East/2011/1108/Imminent-Iran-nuclear-threat-A-timeline-of-warnings-since-1979/Earliest-warnings-1979-84
Dangerous Crossroads: The Threat of a Pre-emptive Nuclear War directed against Iran
By Prof Michel Chossudovsky
Global Research, March 26, 2013
For more than a decade, Iran has been doggedly accused without evidence of developing nuclear weapons. The Islamic Republic is relentlessly portrayed by the Western media as a threat to the security of Israel and of the Western World.
In a bitter irony, the assessment of America's Intelligence Community concerning Iran's alleged nuclear weapons capabilities refutes the barrage of media disinformation as well as the bellicose statements emanating from the White House. The 2007 National Intelligence Estimate (NIE): "judges with high confidence that in fall 2003, Tehran halted its nuclear weapons program." (2007 National Intelligence Estimate Iran: Nuclear Intentions and Capabilities; November 2007
Link
, See also Office of the Director of National Intelligence (ODNI)
Link
)
"We assess with moderate confidence Tehran had not restarted its nuclear weapons program as of mid-2007, but we do not know whether it currently intends to develop nuclear weapons.
- We continue to assess with moderate-to-high confidence that Iran does not currently have a nuclear weapon.
- Tehran's decision to halt its nuclear weapons program suggests it is less determined to develop nuclear weapons than we have been judging since 2005. Our assessment that the program probably was halted primarily in response to international pressure suggests Iran may be more vulnerable to influence on the issue than we judged previously." (2007 National Intelligence Estimate Iran: Nuclear Intentions and Capabilities; November 2007)
In February 2011, The Director of National Intelligence James R. Clapper (image right) – while presenting the 2011 National Intelligence Estimate (NIE) to the Senate Select Committee on Intelligence – intimated -with some hesitation – that the Islamic Republic was not seeking to develop nuclear weapons capabilities: "we do not know if Iran will eventually decide to build nuclear weapons."
The 2011 NIE largely confirms the findings undertaken by the US intelligence community in the 2007 NIE, which remains, according to The New York Times, "the consensus view of America's 16 intelligence agencies."
Post 9/11 pre-emptive nuclear war doctrine
First formulated in the Bush administration's 2002 'Nuclear Posture Review', the pre-emptive nuclear war doctrine -integrated into the Global War on Terrorism – started to take shape in the immediate wake of the war on Iraq. A pre-emptive'defensive' nuclear attack on Iran using tactical nuclear weapons was envisaged to annihilate the Islamic Republic's non-existent nuclear weapons program.
So-called 'mini nukes' were identified as the 'ideal weapon' to conduct a pre-emptive nuclear attack.
In 2003, the mini nukes, consisting of bunker-buster bombs with nuclear warheads, were re-categorized by the US Senate as bona fide conventional weapons. The new definition of a nuclear warhead has blurred the distinction between conventional and nuclear weapons.
Senator Edward Kennedy, at the time, accused the Bush Administration for having developed "a generation of more useable nuclear weapons."
Through a propaganda campaign which enlisted the support of'authoritative' nuclear scientists, the mini-nukes were upheld as an instrument of peace rather than war.
"Administration officials argue that low-yield nuclear weapons are needed as a credible deterrent against rogue states [Iran, North Korea]. Their logic is that existing nuclear weapons are too destructive to be used except in a full-scale nuclear war. Potential enemies realize this, thus they do not consider the threat of nuclear retaliation to be credible. However, low-yield nuclear weapons are less destructive, thus might conceivably be used. That would make them more effective as a deterrent."(Opponents Surprised By Elimination of Nuke Research Funds, Defense News, November 29, 2004)
In an utterly twisted piece of logic, nuclear weapons are presented as a means to building peace and preventing 'collateral damage'. The Pentagon had intimated, in this regard, that the mini-nukes are 'harmless to civilians' because the explosions 'take place underground'. Each of these mini-nukes, nonetheless, constitutes – in terms of explosion and potential radioactive fallout – a significant fraction of the atom bomb dropped on Hiroshima in 1945.
Estimates of yield for Nagasaki and Hiroshima indicate that they were respectively of 21,000 and 15,000 tons. Mini-nukes have a yield (explosive capacity) between one third and six times a Hiroshima bomb.
Following the 2003 Senate Green Light, which upheld mini nukes as 'humanitarian bombs', a major shift in nuclear weapons doctrine has unfolded. The low-yield nukes had been cleared for'battlefield use'. In contrast to the warning on a packet of cigarettes (see the proposed Food and Drug Administration label) the 'advisory' on the 'dangers of nuclear weapons to human health' is no longer included in military manuals. The latter have been revised. This 'new' generation of tactical nuclear weapons is considered 'safe'. The dangers of nuclear radiation are no longer acknowledged. There are no impediments or political obstacles to the use of low yield thermonuclear bombs.
The 'international community' has endorsed nuclear war in the name of World Peace.
Mini-nukes: Preferred weapons system of 'pre-emptive nuclear war'
While reports tend to depict the tactical B61 bombs as a relic of the Cold War era, the realities are otherwise: mini-nukes are the chosen weapons system under the doctrine of pre-emptive nuclear war, to be used in the conventional war theater against terrorists and 'state sponsors of terrorism', including the Islamic Republic of Iran.
Concrete plans to wage a pre-emptive nuclear attack on Iran have been on the Pentagon drawing board since 2004. A pre-emptive nuclear attack would consist in the deployment of B-61 tactical nuclear weapons directed against Iran. The attacks would be activated from military bases in Western Europe, Turkey and Israel.
In 2007, NATO confirmed its support for America's nuclear pre-emption doctrine in a report entitled 'Towards a Grand Strategy for an Uncertain World: Renewing Transatlantic Partnership'. The report (authored by former defense chiefs of staff of the US, UK, Germany, France and the Netherlands, and sponsored by the Dutch Noaber Foundation) calls for a pre-emptive 'first strike' use of nuclear weapons, against non-nuclear states as:
"the ultimate instrument of an asymmetric response – and at the same time the ultimate tool of escalation. Yet they are also more than an instrument, since they transform the nature of any conflict and widen its scope from the regional to the global. Regrettably, nuclear weapons – and with them the option of first use – are indispensable, since there is simply no realistic prospect of a nuclear-free world." (Ibid, p.96-97, emphasis added).
According to the authors, Iran constitutes a major strategic threat – not only to Israel, "which it has threatened to destroy, but also to the region as a whole." (Ibid, p.45) What is required is for the Atlantic Alliance to "restore deterrence through [military] escalation."
In this context, the Report, endorsed both by NATO and the Pentagon, contemplates the notion of:
"escalation dominance, the use of a full bag of both carrots and sticks—and indeed all instruments of soft and hard power, ranging from the diplomatic protest to nuclear weapons." (Report, p.96. emphasis added)
In December 2011, less than a year following the publication of the 2011 National Intelligence Estimate (NIE), which underscored that Iran does not have a nuclear weapons program, a'no options off the table' agenda directed against Iran was put forth by the Obama administration. What was envisaged was a planned and coordinated US-NATO Israel military posture with regard to Iran. It was understood, as intimated by former Defense Secretary Leon Panetta, that Israel would not act unilaterally against Iran. In the case of an attack on Iran, the green light would be granted by Washington.
"Any military operation against Iran by Israel must be coordinated with the United States and have its backing," said Panetta.
The various components of the military operation would be firmly under US Command, coordinated by the Pentagon and US Strategic Command Headquarters (USSTRATCOM) at the Offutt Air Force base in Nebraska.
Military actions by Israel would be carried out in close coordination with the Pentagon. The command structure of the operation is centralized and ultimately Washington decides if and when to launch the military operation.
In March 2013, the 'all options' resolution in relation to Iran was on the agenda during the president's official visit to Israel. While an integrated US-NATO-Israel approach in response to'the perils of a nuclear-armed Iran' war was reasserted, the tone of the discussions was in the direction of military action against Iran.
Obama's visit to Israel was preceded by high-level bilateral consultations, including the visit of IDF Chief of Staff Benny Gantz to Washington in February for discussions with the Chairman of the US Joint Chiefs of Staff General Martin Dempsey pertaining to Iran and Syria. Benny Gantz was accompanied by Maj. Gen. Aviv Kochavi, director of IDF Military Intelligence, at the meeting with his US counterparts. The new head of the Pentagon Chuck Hagel will be visiting Israel in April in a follow-up meeting.
"Tweeters pointed out that when Obama took his jacket off, Netanyahu promptly mimicked the president. Everything seems well coordinated."(Photo from twitter.com user @netanyahu)
In the course of Obama's visit, Prime Minister Netanyahu reiterated the need for "a clear and credible threat of military action [against Iran]," while intimating that Israel could act unilaterally. In this regard, it is worth noting that in August 2012, a few months prior to the US presidential elections, a leaked IDF briefing document (translated from Hebrew) revealed the details of Netanyahu's proposed "shock and awe attack" on Iran.
"The Israeli attack will open with a coordinated strike, including an unprecedented cyber-attack … A barrage of tens of ballistic missiles would be launched from Israel toward Iran … from Israeli submarines in the vicinity of the Persian Gulf. The missiles would be armed with … high-explosive ordnance equipped with reinforced tips designed specially to penetrate hardened targets. … A barrage of hundreds of cruise missiles will pound command and control systems, research and development facilities, … among the targets approved for attack— Shihab 3 and Sejil ballistic missile silos, storage tanks for chemical components of rocket fuel, industrial facilities for producing missile control systems, centrifuge production plants and more." (Quoted in Richard Silverstein, Netanyahu's Secret War Plan: Leaked Document Outlines Israel's 'Shock and Awe' Plan to Attack Iran, Tikun Olam and Global Research, August 16, 2012, emphasis added).
The strike details mentioned in the leaked IDF briefing above pertain solely to the use of conventional weapons systems.
------------------------------------------------------------------------------------------------------
First Strike" Pre-emptive Nuclear War directed against Iran. The Alliance's Nine Nuclear Weapons' States
In defining who are the main actors in the Iran pre-emptive nuclear warfare equation, the definition of "nuclear weapons states" (NWS) must be addressed. Thermo-nuclear weapons are deployed by the three "official" Nuclear Weapons States (NWS) of the Atlantic Alliance, namely the US, the UK and France. The official NWS status is established under the terms of the Nuclear Non-Proliferation Treaty (NPT).
Five other NATO member countries (categorized under the NPT as "non-nuclear states"), namely Belgium, Germany, the Netherlands, Italy and Turkey, possess an arsenal of B61 tactical nuclear warheads or "mini-nukes" (Made in America) which are deployed under national military command and are targeted at Iran. The B61 can be delivered by a variety of different aircraft.
Are these five countries in violation of the Nuclear Proliferation Treaty of which they are signatories?
Nine Nuclear Weapons Countries
In relation to ongoing war plans, the US-NATO-Israel military alliance includes a total of nine countries which possess a nuclear weapons arsenal:
The three official NWS: United States, United Kingdom, France
The five "Undeclared Nuclear States": Belgium, Germany, Netherlands, Italy and Turkey, categorized as "Non-Nuclear States".
Israel: "Undeclared Nuclear State".
With the exception of Israel, these countries are signatories of the NPT.
Pre-emptive Nuclear Warfare
While reports tend to depict the tactical B61 bombs as a relic of the Cold war era, the mini nukes are the preferred weapons system of pre-emptive nuclear war. Were an attack directed against Iran to be launched involving the deployment of B61 bunker buster nuclear bombs, these five countries, with Turkey and Italy in the forefront, would be playing a major strategic role.
B-2A bomber releases a test version of the new B61-11 gravity bomb over the Tonopah Test Range in Nevada, November 20, 1996 (left)
The involvement of these five "non nuclear states" as major actors in a US sponsored pre-emptive nuclear war raises the issue of definition and categorization of nuclear weapons states.
In the words of Time Magazine:
"Is Italy capable of delivering a thermonuclear strike?…
Could the Belgians and the Dutch drop hydrogen bombs on enemy targets?…
Germany's air force couldn't possibly be training to deliver bombs 13 times more powerful than the one that destroyed Hiroshima, could it?…
Nuclear bombs are stored on air-force bases in Italy, Belgium, Germany and the Netherlands — and planes from each of those countries are capable of delivering them." ("What to Do About Europe's Secret Nukes."Time Magazine, December 2, 2009)
The Time report is careful not to address the fundamental question.
A
r
e
Turkey and Italy nuclear weapons states? The B61s are described as a leftover from the Cold War.
The issue of post 9/11 pre-emptive warfare is not mentioned:
"These weapons are more than a historical oddity, says Time. They are a violation of the spirit of the Nuclear Non-Proliferation Treaty (NPT) … that provides a legal restraint to the nuclear ambitions of rogue states." (Ibid).
While Iran does not possess nuclear weapons capabilities as confirmed by the latest US National Intelligence Estimate (NIE), the nuclear weapons potential of these five countries –including delivery procedures– are formally acknowledged.
These five countries possess WMDs, yet they do not constitute –in the eyes of public opinion– a threat to global security. Moreover, at no time have these five countries been designated as "rogue states" or "undeclared nuclear weapons states".
US and NATO military documents attest to the fact that the B61 is the weapon of choice of pre-emptive nuclear war as opposed to the larger thermo-nuclear bombs of the Cold War era.
Moreover, were military action to be launched against Iran, these five countries would play a key role in the delivery of B61 bunker buster bombs with nuclear warheads.
The US had originally supplied some 480 B61 thermonuclear bombs to these five "non-nuclear states", as well as to the United Kingdom, which is categorized as a Nuclear Weapons State (NWS). (See map below)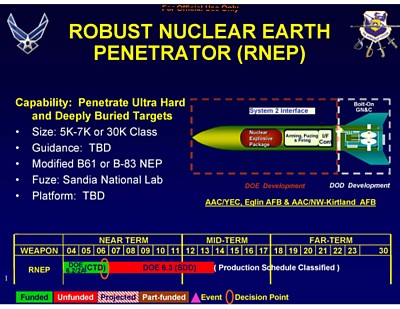 RNEP: The Follow-On To B61-11 (right),

Nuclear Information Project, The B61-11 The Birth of A Nuclear Bomb (image: right)
Casually disregarded by the Vienna based UN Nuclear Watchdog (IAEA), the US has actively contributed to the proliferation of nuclear weapons in Western Europe and Turkey. While, some of these bombs were decommissioned as a result of political pressures, particularly in Belgium and Germany, the US –in liaison with NATO– has launched a multibillion dollar modernisation program of its tactical nuclear weapons arsenal.
As part of this European stockpiling and deployment, Turkey, which is a partner of the US-led coalition against Iran along with Israel, possesses some 90 thermonuclear B61 bunker buster bombs at the Incirlik nuclear air base. (
National Resources Defense Council, Nuclear Weapons in Europe
, February 2005). This is all the more significant in view of the "reconciliation" and renewed bilateral military cooperation between Ankara and Tel Aviv in the wake of President Obama's March visit to Israel.
The stockpiling and deployment of tactical B61 (including the B61-11 earth penetrating warhead) in these five "non-nuclear states" are intended for targets in the Middle East. In accordance with "NATO strike plans", these thermonuclear B61 bunker buster bombs (stockpiled by the "non-nuclear states") could be launched against Iran, Syria and Russia:
The approximately 480 nuclear bombs in Europe [350 according to 2007 estimate] are intended for use in accordance with NATO nuclear strike plans, the report asserts, against targets in Russia or countries in the Middle East such as Iran and Syria.
The report shows for the first time how many U.S. nuclear bombs are earmarked for delivery by non-nuclear NATO countries. In times of war, under certain circumstances, up to 180 of the 480 nuclear bombs would be handed over to Belgium, Germany, Italy, the Netherlands and Turkey for delivery by their national air forces. No other nuclear power or military alliance has nuclear weapons earmarked for delivery by non-nuclear countries."
(quoted in Nuclear Information Project, Nuclear Weapons in Europe

. 2005. S

ee full report at National Resources Defense Council, Nuclear Weapons in Europe, New York, February 2005)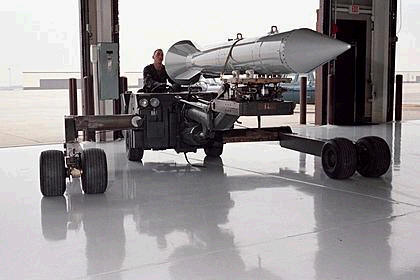 Nuclear Information Project, The B61-11 The Birth of A Nuclear Bomb
Does this mean that Iran or Russia, which are potential targets of a nuclear attack originating from one or other of these five so-called non-nuclear states should contemplate defensive pre-emptive nuclear attacks against Germany, Italy, Belgium, the Netherlands and Turkey? The answer is no, by any stretch of the imagination.
While these "undeclared nuclear states" casually accuse Tehran of developing nuclear weapons, without documentary evidence, they themselves have capabilities of delivering nuclear warheads, which are targeted at Iran. To say that this is a clear case of "double standards" by the IAEA and the "international community" is a understatement.
While political pressures have been exerted in recent years towards decommissioning the stockpile of tactical nuclear weapons, the arsenal of B61 bunker buster bombs with nuclear warheads remains fully operational. In the case of a conflict with Iran, mini nukes in the five non nuclear states would be actively deployed in liaison with NATO, which as fully endorsed the doctrine of nuclear pre-emption. According to the Pentagon:
… keeping these weapons in Europe is that they allow NATO members to participate in shaping alliance nuclear policy [i.e. pre-emptive nuclear doctrine]. In this view, transatlantic ties are strengthened when the risks and costs of deploying and securing nuclear weapons are shared between the US and the respective host nations. (Quoted in "Parting words: Gates and tactical nuclear weapons in Europe". Bulletin of Atomic Scientists, 14 July 2011)
Modernising the Mini-Nukes Arsenal
The decommissioning of the B61 nukes stockpiled in Western Europe and Turkey is a smokescreen. The European tactical nuclear weapons project is not being phased out as some reports have suggested. Quite the opposite. In 2010, the US National Nuclear Security Administration initiated a program "to refurbish and extend the life of the B61 bomb" at an initial estimated cost of 4 billion dollars (Ibid). By 2012, the mini nukes refurbishing program had skyrocketed to $10 billion.
(US Department of Defence, Case Independent Cost Assessment for B61 LEP,
Washington, July 13, 2012)
Described by the Federation of American Scientists, as "a gold plated nuclear bomb project", this initiative consists in modernizing the existing pre-emptive nuclear arsenal of B61 tactical nuclear weapons deployed in the five undeclared nuclear states. Moreover, a new version of the B61 bunker buster bomb is envisaged: the B61-12. The latter is to be developed for deployment in Western Europe and Turkey with the backing of NATO and the German government, (
Federation of American Scientists, November 2012).
The Obama administration and Congress have pushed the program forward despite the enormous cost … of refurbishing such complex weapons … Advocates, including the Obama administration, argue that the bomb is still essential to U.S. national security. In their view, t

he B61s deployed in Europe are the most concrete example of shared responsibility among the NATO countries,

providing the indispensable psychological glue that binds the often-fractious alliance…. The B61 provides a case study in the expense and innovations driving the ambitious effort to maintain the nation's nuclear defenses at a time of fiscal constraints and a shift away from reliance on nuclear deterrence. (

Washington Post, September 16, 2012 emphasis added)
Reports from Turkey confirm that the B61-12 is slated for delivery in 2019.
Germany: Nuclear Weapons Producer
Among the five "undeclared nuclear states", "Germany remains the most heavily nuclearized country with three nuclear bases (two of which are fully operational) and may store as many as 150 [B61 bunker buster ] bombs" (
National Resources Defense Council, Nuclear Weapons in Europe
. In accordance with "NATO strike plans", these tactical nuclear weapons are also targeted at the Middle East.
While Germany is not categorized officially as a nuclear weapons state, it produces nuclear warheads for the French Navy. It stockpiles tactical nuclear weapons (Made in America) and it has the capabilities of delivering nuclear weapons. Moreover,
The European Aeronautic Defense and Space Company – EADS
, a Franco-German-Spanish joint venture, controlled by the powerful Daimler Group is Europe's second largest military producer, supplying .France's M51 nuclear missile.
Germany imports and deploys tactical nuclear weapons from the US. EADS produces nuclear warheads which are exported to France. Yet Germany is classified as a non-nuclear state.
Dangerous Cross Roads
The tactical nuclear weapons deployed by the five non declared nuclear states are under national command and could be used in a pre-emptive US-NATO sponsored nuclear attack against Iran.
Tactical nuclear weapons are also deployed by Israel.
While i
t is unlikely that nuclear weapons would be used at the outset of an attack, they could be envisaged as part of a scenario of military escalation.
It is, therefore, important that public opinion in Western Europe, Turkey and Israel be made aware of the consequences of pre-emptive warfare and that political pressures be exerted on the governments of these 5 countries, with a view to blocking the deployment of the B61 nuclear warheads in their respective military bases as well withdrawing outright from ongoing US-NATO pre-emptive war plans directed against Iran.
Tactical nuclear weapons are in essence slated to be used against non-nuclear states in the middle East. Their use was contemplated in both the Iraq war in 2003 as well against Libya in 2011.
The focus on tactical nuclear weapons (mini-nukes) as part of the conventional war arsenal, does not mean that the the US and its allies have scrapped the idea of using their arsenal of larger strategic thermonuclear weapons. While the latter would not be used against a non-nuclear state in the Middle East, they are deployed and targeted against Russia, China and North Korea.
For those who believe that the use of thermonuclear nuclear weapons belongs to a bygone era, think twice.
Nuclear Weapons and the Economic Crisis
While the Pentagon's modernization budget for the pre-emptive nuclear option is a modest ten billion dollars (excluding the outlays by NATO countries). the budget for upgrading the US arsenal of "strategic nuclear offensive forces" is a staggering $352 billion over a ten year. (See Russell Rumbaugh and Nathan Cohn,
"

Resolving Ambiguity: Costing Nuclear Weapons,"
Stimson Center Report
, June 2012)
These multibillion military outlays allocated to develop "bigger and better nuclear bombs" are financed by the massive economic austerity measures currently applied in the US and in NATO countries.
The war economy is largely funded by compressing all categories of civilian government expenditure. In the US, these refurbished state of the art nuclear bombs are largely funded by the dramatic cuts in Medicare, Medicaid and Social Security.
Humanity is at a dangerous crossroads.
America is a "Killer State". The gamut of economic austerity measures impoverish the American people while generously funding the "Killer State" through multibillion contracts to Lockheed Martin, Northrop Grumman, Raytheon et al
War preparations to attack Iran are in "an advanced state of readiness". Hi tech weapons systems including nuclear warheads are fully deployed.
At the height of an Economic Depression, "War is Good for Business".
Escalation is part of the military agenda. While Iran, is the next target together with Syria and Lebanon, the US-NATO military agenda also threatens Russia, China and North Korea.
We call upon people across the land, in America, Western Europe, Israel, Turkey and around the world to rise up against this diabolical military project, against their governments which are supportive of military action against Iran, against the media which serves to camouflage the devastating implications of a war against Iran.
The Western media, the Washington Think Tanks, the scientists and politicians, in chorus, obfuscate the untold truth, namely that war using nuclear warheads threatens the future of humanity.
The real threat to global security emanates from the US-NATO-Israel alliance.
For further details on the dangers of Nuclear War, see the author's most recent book:
Towards a World War III Scenario:

The Dangers of Nuclear War, Global Research, Montreal, 2011
An earlier version of this article was published by RT Op-Edge
http://www.globalresearch.ca/latest-news-and-top-stories